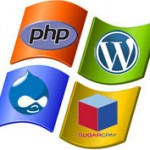 It seems that, earlier this year, Microsoft released a small application called Web Platform Installer , a utility meant to be dead simple to install a range of web applications and get your website up and going fast on a IIS server.
Beside the usual Microsoft web applications support like ASP.NET and SQL SERVER, they also added support for PHP, facilitating this way the installation of a range of web publishing tools like Drupal, Moodle and WordPress, hope I see some Joomla! there as it's fairly popular.
Would also be nice to hear they also added support for Python, so that we can start serving code to Google, kidding :), but it wouldbe nice.
A small review of this service can be found here , thanks to Louis Simoneau.